24 Jan

Sewing Hope in Peru

In the hustle and bustle of trying to finish as much as possible on the drop-in center, I was worried we would not have enough time to start teaching the ladies at El Bichito some sewing lessons. Finally on our second to last day, we had some time in between projects to whip out the sewing machines. We gathered all we could and headed downstairs. "I have something special for you", I told Feliciana, they lady in charge at El Bichito. We took out two of the three sewing machines and started to assemble them.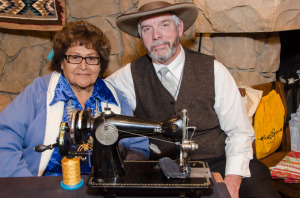 After a little bit of Macgyvering we were able to make the two machines work. Sheri and Kaylynn started showing the ladies, pointing and using simple vocabulary. I was convinced that we were not going to get anywhere. My problem was I didn't know how to sew and especially didn't know how to Sew Much Hope Perutranslate sewing words like "bobbin" and "cross-stitch". To my surprise the little Andean ladies had some familiarity with sewing in secondary school. They told me that they use to have vocational courses but they now charge lots of money to take a class like sewing. Within minutes of sitting down they were sewing zig-zags, making pouches, and a backpack.
Within one hour the ladies understood each other. Not because of language, but because of experience, they were able to communicate the whole process of sewing bags, money holders, and patterns. I felt so happy to feel useless as these women from completely different backgrounds and cultures learned and worked together. By the end of the first class we had a small group of villagers watching intently as the ladies sewed.
We are excited to have our interns continue these workshops with more ladies at the center this year! The local ladies told us that a local hotel has contracted a group of women to make napkins for their dining rooms. The ladies at El Bichito have hope that learning to sew will help them grow personally and help support their families.