12 Nov

Christmas Story

Dear Gino of Sew Much Hope,

On behalf of The Hope Alliance and our alliance partners I want to tell you a simple Christmas story. Four months ago, a man arrived with his 4 children pleading that we take his girls into our care at Camatin Orphanage. His wife had been hit by a car and lay in a hospital fighting for her life as infection ravaged what was left of her 2 legs destroyed by the horrific accident. We couldn't take them as we had no funds for additional orphan sponsorship but accepted their eldest daughter, 9 year old Dieunita.

When we returned to the US we received notice that one of our June 2011 team members wanted to "sponsor" her. Last week we returned to Haiti with an expedition whose mission was sustainable water systems, medical relief and Christmas for the girls and our school kids. Dieunita was one of the 30 orphans who received this Christmas celebration. She wanted us to meet her Mother who had returned to her shack in a wheelchair and without her legs. Our doctors and alliance partner Medic Samaritan treated what was left of her legs and sent them home with food, medicine for her pain, and love of our team. She is a beautiful 34 year old Mother of 4 who could not work, cook, or care for her children and believed her life to be hopeless. Her husband Ditunet was left with total care of all the kids and his handicap wife as well as the sole provider for the family.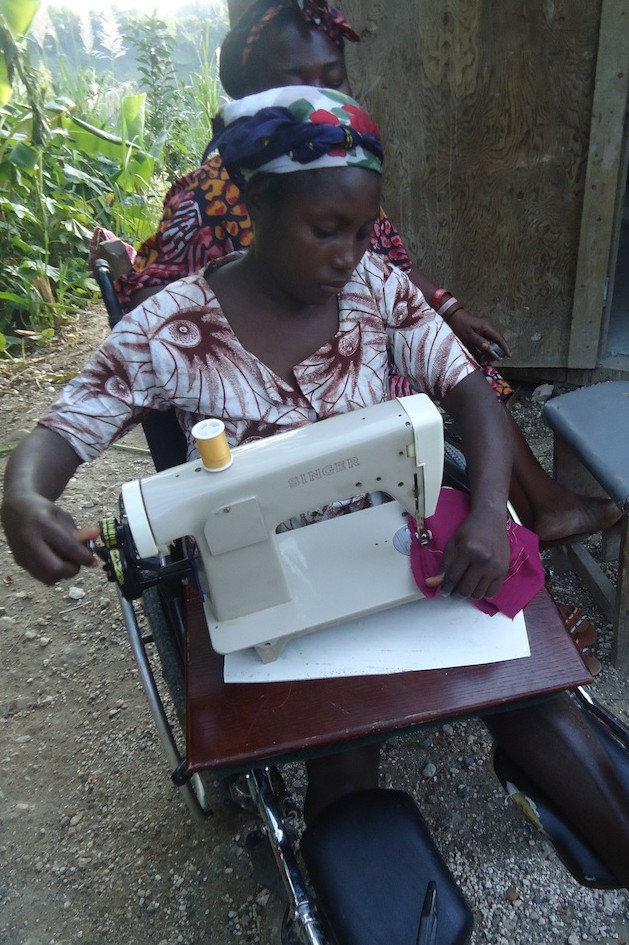 Sew Much Hope had gifted The Hope Alliance with 2 hand crank sewing machines to be used in our existing sewing school for graduates who in tern taught the next session in our school (a total of 8 to date). Since the current session had only begun, we had use for only one of the machines. The other was hand carried with an additional "lap tray" which Gino said was to serve someone who didn't have a table. We planned to store this until the next sewing school session begins in January.
Together with a translator and 9 year old Dieunita, I visited Mdm. Manise and it all came together. The gift Sew Much Hope had given to The Hope Alliance paved the way for a new way of life for Manise. After an afternoon with her, the excitement she had over her new "machine" and the freedom she would realize because of what she could now do to contribute to her family is apparent in her smiles of joy.
We have arranged for our sewing instructor Jilus to travel to her home and teach her 2 days a week for the next 2 months until we return with crafts, fabric, and patterns for her to sew. Her older children will sell them in the local market.
The rest is the story to be told but for now, I humbly thank you Gino and Sew Much Hope for your vision, dedication, and love of the sewing machine as a life changing vehicle. Madame Manise wanted me to tell you as the tears streamed down her face, "merci anpil" and "may God bless you".
Have a wonderful Christmas and my personal love to you.
Kym Meehan, The Hope Alliance-Haiti